Like the quirky, slightly sinister pieces clustered throughout her East Village VeraMeat shop, Vera Balyura's story carries an element of the fantastical. Perhaps, it's fitting. Vera was raised in no cookie cutter home.
With a concert pianist for a mother and a documentary filmmaker who managed a pin company on the side for a father, Vera was never destined for normal. And, she's better for it. It's her eccentricity, unorthodox spirit and overall force of character that have transformed this jewelry designer's vision into a burgeoning brand with a cult following.
Until she settled in NYC in the late '90s, Vera had lived everywhere and nowhere. At age 6, her family left Ukraine for Utah, joining the suburban enclaves of middle-class, white bread families homesteading in Salt Lake City. Her mother opened a nail salon. Yet, typical was not in their blood. A self-proclaimed nerd, Vera was considering early admission to college until she was discovered by an agent on an elevator ride. She soon signed to Nathalie — an elite modeling agency in Paris — and was sent overseas. By age 14, she was living alone in a model house with nothing to do but attend castings. So she roamed the city, often stopping over at photographers' studios to play guitar and hang out. As she describes it, "I was a child and I didn't try to pretend to be an adult like so many of the other girls." Vera was just herself.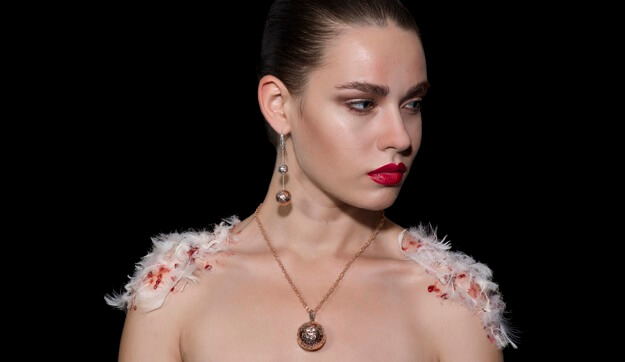 Several years passed and Vera moved back to New York. After dabbling in photography and painting (to date, she's created a series of beautiful, eerie portraits that she refuses to sell), she turned to soldering and began designing jewelry. It would be an understatement to say her designs stood out. Local boutiques snapped up her jewelry and Vera was in business. Her online sales flourished and the label gained traction via celebrity endorsements (Tilda Swinton, Michel Gondry and Kloe, yes Kloe, of the Kardashian clan have all proudly donned VeraMeat). In Vera's own words, "I've learned that nothing comes to those who wait, so I just went ahead with it. Life is too short to not try!" In other words, Vera continues to be herself.
Q – I feel like I'm always hearing about models collaborating with designers or launching their own individual lines. Yet you launched your jewelry line relatively early in the grand scheme of things. Do you ever encounter this sort of attitude? Like "oh, it's just another model attempting to design"?
A – Models often start working while they're children, so it makes sense that they'd move into a field they have experience in once they grow up. I was one of the first models to design, but not because someone told me to. I decided to change my career path and I took jewelry very seriously by going to school, interning… Every person should follow their dreams — whether they're a model or not.
Q – What led you to focus on jewelry specifically? Do you ever think of branching out into women's wear or accessories?
A – I've always loved my mother's unique jewelry collection, as well as my grandfather's miniatures, so I put those two loves together. Having a magical thing to carry with you, I've found, gives you luck. Customers say they're more inspired in their daily life. Plus, everyone loves something beautiful to show off to friends new and old. I love accessories and clothing, so I can see myself someday expanding the company. I have no shortage of ideas!
Q – The first time we met (which for full disclosure was not that long ago), you pulled up several paintings you'd created as a child. I remember being surprised by their slightly sinister and macabre look. Where do you think this interest for darker, harsher realities originated?
A – Your darkness may be my lightness. I've seen Stalin fall, had a 7 foot tall grandfather give me a baby hamster and I've thrown knives with my Dad in the backyard. It's wonderful when everyone's born with different preferences. Mine have always been for neon black.
Q – You grew up in the Ukraine, yet have lived in NYC since you moved here to model at age 14. Where do you claim your home?
A – I lived all over Europe growing up, which was fantastic, before moving to NYC when I was eight. After moving around some more, I returned to New York at 14. New York is the best of all worlds for me. There are so many cultures here. I feel like I'm traveling each day.
Q – Tell me about your plans for expansion in L.A. From the bevy of reviews and endorsements I've seen online, it seems like you already have quite the West Coast following.
A – Many customers have asked me to make a West Coast location happen. We'll see how it goes. Maybe in the next year it will happen if the right store location presents itself!
Q – When we discussed ideas for the photo shoot, you had a lot of crazy, imaginative ideas that seemed to play into a very conceptual, alternate look. VeraMeat carries this edge, yet still appeals to a wide range of people. How do you find a balance between creating something that reflects your tastes and yet still resonates with a broad range of people?
A – I don't walk on eggshells with my brand. I want it to grow as my own tastes do. Yet I'm always moving toward creating a modern classic. I've lived all over — from Paris to Utah — so all those inspirations have a role. I'd like to be original in my designs yet make things I'd buy for myself. I'm lucky my customers find their own stories reflected in VeraMeat.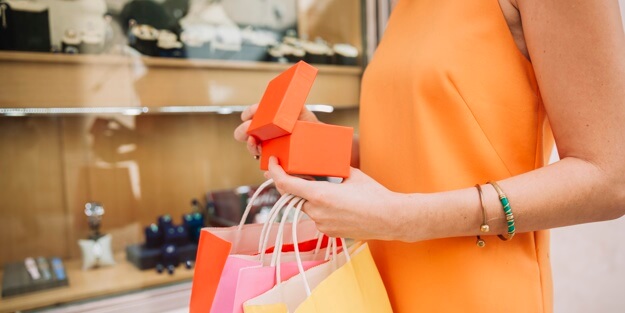 Q – When do you mentally map out what you're going to wear to work the next day?
A – Usually, I'm influenced by artists I'm researching or art I'm making. Friends I've hung out with also have a role. I love all the style inspirations coming into my life in New York. There is no shortage.
Q – What are some of your favorite places to shop?
A – I mostly shop online, which probably hints at the reason why I've had an online store since I started my company. Opening an actual, physical store location in the East Village (the address is 315 E. 9th Street) has inspired me to shop more at boutiques. Many of my friends happen to design clothing, which makes it easy. And, best of all, I can shop at my own trunk shows at VeraMeat!
Q – What work outfit gives you that "on top of the world" feeling?
A – Any outfit adorned with a VeraMeat accessory always makes my heart sing. Ha! My friend Eva from Las Pepas did a trunk show at my store recently and I bought a black fringe jacket I'm now in love with.